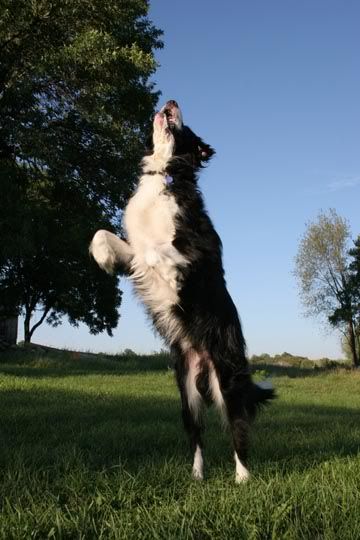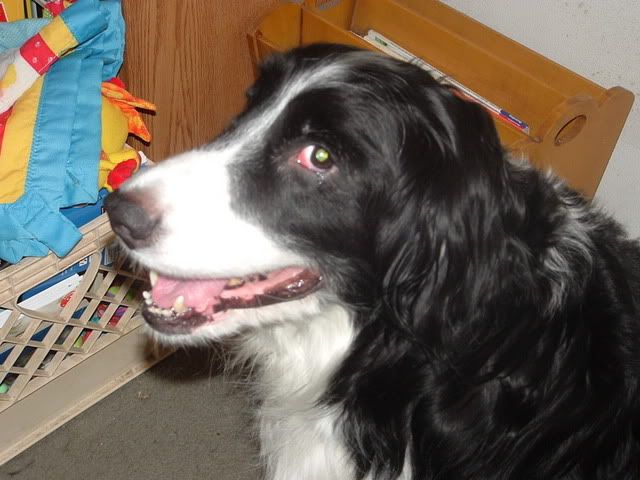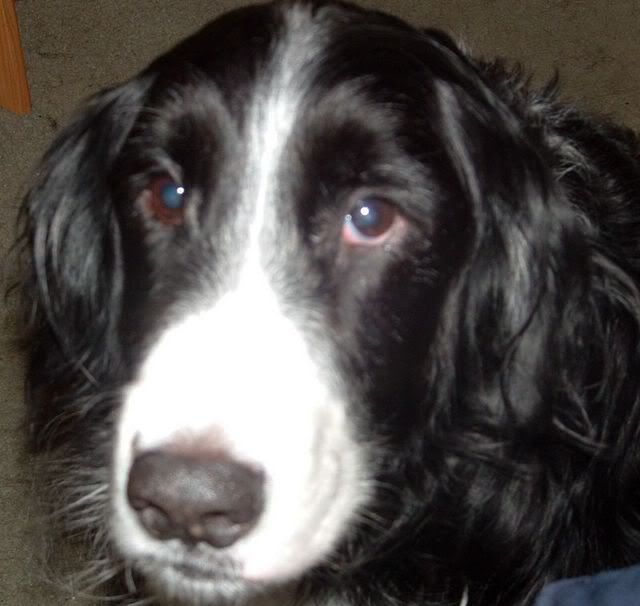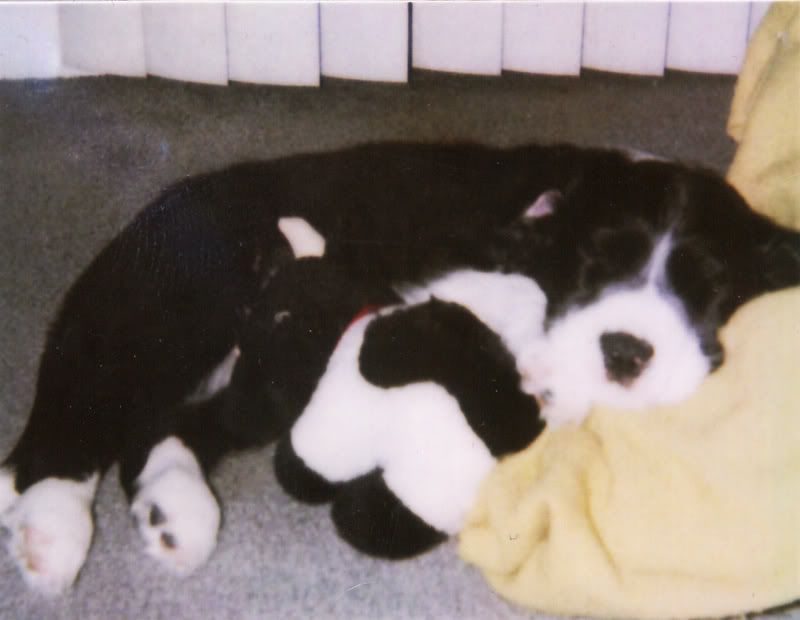 Well this was supposed to be about fun stuff and thingeys. But I haven't posted to it in forever anyway.
In April of 2000 I got a 7 week old Border Collie/Springer Mix and I named him Dante. I heard about the litter through a friend and I called Zac and asked him if I could get one because I knew if I went to look at them I would not be able to not bring one home. I drove in 13 inches of snow with it still coming down to go look at them.
There were nine in the litter and all the females were spoken for which was fine with me, I'm more of a male dog person. There were tricolors but I am a black and white dog person too. They were all adorable but she went to feed them and the rest of them all looked clueless except for one who was all, "Food! FOOD! FOOD!" That was the one for me. In hindsight I should have known that food would be his true love for the rest of his life. When I picked him up he smiled. I knew it was meant to be.
They weren't ready for a few days and when I went to pick him up he totally remembered me. We never had any of those weird puppy transitional things, he knew he was home and he knew he belonged to us.
I took him everywhere with me, he was totally our child. Luckily I worked for a vet because this allowed me to bring him to work with me. No dog was ever more spoiled. Or loved.
He was the most psychotic little thing. Super high energy doesn't even begin to cover it. I remember being mortified at puppy school - he had no idea he wasn't supposed to just romp around. But a few months later when we started obedience it was clear that he was highly intelligent. He was always the rockstar in class and we went very far. It was something we loved to do together.
Back to food... He was an expert at clandestine food stealing. He could just sail right past you and grab food out of your hand without you even knowing it which is how he got the nickname Dante McMuffin. There was also the chicken curry incident (which made him have red poop for three days) and various other humorous thieving.
When he was about two we started working on a sheep farm - a job he was designed for. Oh how he loved it. He was a natural. He learned the ropes easily and was always there to protect me if a ram got out of hand. He was a little stupid around the lambs though. I think he thought they were other dogs. Most of all he loved the other dogs. Snap, Mist, and Kelpie were his ladies. I think the best times of his life were spent on that farm.
He also learned how to pull a sled. He was great at that too. He had a hot pink harness, very manly. :) It was hilarious to watch a team of huskies and a dog that looked like a giant overgrown Border Collie.
He was super smart and good at everything he tried. I know I am probably overthinking it and bragging but I would venture to guess he knew about 500 words of English. You could tell him anything and he would do it.
He had serious allergies. He was sick his entire life. It started around four months. I think he spent most of his life with an ear infection. He was allergic to everything. Including humans. But for the most part it didn't stop him from being the happiest dog in town. He could win a wiggliest butt contest any day. His entire back half would wiggle. Greatest thing ever.
My son was born in August of 2006 and always has been in love with Dante. This kid was born to love dogs, he is just amazing with them. His first word was Dante.
In June of 2007 he got very sick. First he had Pseudomonas which was really hard to treat and later he got Lyme disease despite using preventive measures. We didn't think he'd make it through that, but he did. He was a fighter and he wasn't ready to leave us.
But now he is. On Wednesday he will be leaving us forever. And it is time. It's probably been time for a long time. I love him so much. This is one of the most heartbreaking decisions I have ever had to make. And I know that it will be okay for all of us. He will not be suffering anymore. And he will always live in my heart. But it is so hard. SO HARD. I don't know why they can't just live healthy and strong lives forever.
So if you've read this far, thank you. Thank you for reading about what makes Dante so special. He is a once in a lifetime dog. I will love more dogs in the future but they won't be Dante. And the process of letting him go is the hardest thing I have ever had to do. I am still not sure how I am going to explain this to my son. I will tell him the truth in the least scary way. Our lives will have a hole for awhile. I know we are making the right choice but it doesn't make it any better.
I love you Dante and I will forever.